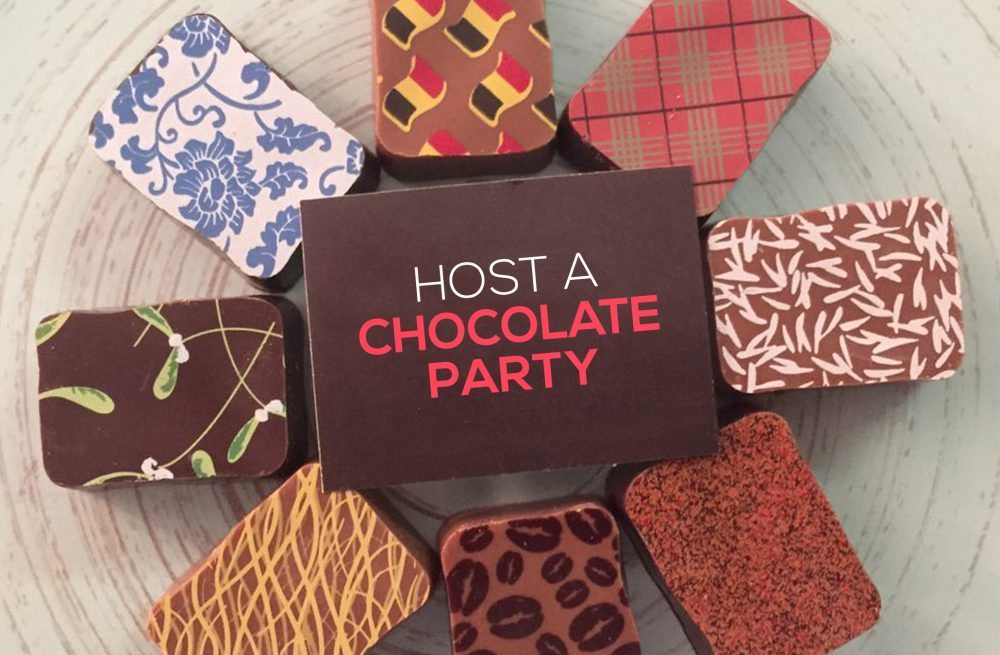 [ultimate_heading main_heading="HOST A CHOCOLATE PARTY" sub_heading_color="#fd455b" main_heading_font_family="font_family:Open Sans|font_call:Open+Sans|variant:800″ main_heading_style="font-weight:800;" sub_heading_line_height="desktop:24px;" sub_heading_font_family="font_family:Open Sans|font_call:Open+Sans" sub_heading_font_size="desktop:15px;"]* Want to gather a group of family or friends for a special evening of chocolate fun?
* Planning a special birthday party for a special someone who loves chocolate?
* Looking for a creative way to bring your team together at work for fun, games and chocolate goodness?[/ultimate_heading]
If so, then consider hosting a Chocolate Party!
ChezSlaughter Chocolate of Shreveport-Bossier also offers a chocolate party package for birthdays, special events and other occasions. Our chocolate party features tastings, games and a favor bag of artisan chocolate and caramels.
The host provides beverages (we recommend water, coffee and tea as these drinks go well with chocolate) and some kind of light snack such as a fruit and veggie tray and chips and dip. Chocolate party guests will taste chocolate so we recommend keeping the refreshments light and a healthy/salty mix to balance the sweetness of chocolate.
Here's how it works:
* You can host a Chocolate Party for twelve for $300. Each additional person is $15.00.
* Each guest goes home with a box of ChezSlaughter chocolate and caramels.
What We'll Do:
* Taste and compare American chocolate with Belgian chocolate and learn what makes Belgian chocolate one of the top chocolates in the world.
* Play 'Guess What's In that Chocolate Bar': Guests will sample a white chocolate bar, milk chocolate bar and dark chocolate bar and try to guess the two or more flavors in each bar. It's harder than you think!
* Play 'Test Your Chocolate IQ' game where guests compete in a chocolate trivia game.
What Your Guests Take Home in Their Gift Box:
* One MamaMellow (chocolate-smothered mini-marshmallow treat)
* One 100-gram Merci bar.
* Four Mendiants (chocolate disks with toppings)
* Four Dipped Biscoff cookies
* Eight ChezSlaughter artisan caramels.
How to book a party:
If you'd like to book a party or talk about designing a custom chocolate party, e-mail Jeff at: Jeff (at) chezslaughterchocolate.com
[ultimate_heading main_heading="INTERESTED IN MORE INFORMATION?" main_heading_font_family="font_family:Open Sans|font_call:Open+Sans|variant:800″ main_heading_style="font-weight:800;" sub_heading_margin="margin-bottom:45px;"]Click the button below and provide me with your name, email address, phone number and the date on which you need the chocolate. I'll contact you as soon as possible.[/ultimate_heading]