ChezSlaughter Artisan Chocolate
At ChezSlaughter Chocolate of Shreveport-Bossier, Louisiana we make artisan chocolate. bars, filled chocolates and other chocolate-inspired treats from premium Belgian dark, milk and white chocolate. We also make artisan caramels and special cookies such as Italian-inspired biscotti.
So how did a Louisiana boy start making artisan chocolate? Well, there's a story …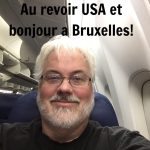 My family and I lived in Brussels, Belgium for 13 years serving in Christian missions. If you've ever been to Belgium you know there's an artisan chocolate shop on every corner. In fact, there are 300 different chocolate companies in the tiny country of Belgium. No wonder that Belgium is known as the 'Chocolate Capital of the World'!
I'm a curious one and started wondering how Belgium got to be the chocolate capital of the world, which led to more wondering about artisan chocolate is made.
Fast forward from all that wondering and I enrolled in an online chocolatier program. Yes, online!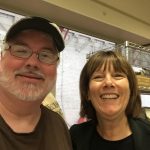 I bought supplies, equipment and chocolate at Chocolate World in Antwerp – an internationally-known chocolate goods supplier, enrolled at Ecole Chocolat in Vancouver, Canada and earned my professional chocolatier certificate.
Today, I put smiles on folk's faces with my handmade artisanal chocolate, including Belgian-style pralines, a variety of bars and holiday products. My treats are handmade from imported Belgian chocolate, beautifully produced and artfully  packaged.
I take ChezSlaughter Chocolate, a roving chocolate boutique and workshop, to homes and churches for chocolate parties and workshops, and to Christmas markets. I also offer special holiday gift boxes for Christmas, Valentines, Mardi Gras and Easter.
Although I'm currently based in Louisiana, I make frequent trips back to Belgium for my primary work (Christian missions projects) where I continue to learn about, study and sample the wonderful world of Belgian chocolate.