Are you a children's pastor or ministry leader looking for an out-of-the-box activity for your church kids?
Are you a homeschooler looking for a fun and educational activity for the kids in your co-op?
Are you a parent looking for a one-of-a-kind birthday party for your child?
If so, then why not host a ChezSlaughter Chocolate Workshop for Kids?
Our Chocolate Workshops for Kids are fun, educational and delicious!
Although our workshops are customizable depending on the age of your children and the context, here is what a typical Chocolate Workshop for Kids consists of:
A Classroom Session
* When your children arrive, they will receive a theme-inspired name badge and lanyard that's theirs to keep.
* Then, your kids will enjoy a themed educational session. Our 2022 theme, 'Chocolate Around the World,' starts with a tour to the countries in which the cacao tree grows – from South and Central America, the Caribbean and Africa to Southeast Asia and Oceania. Through videos, worksheets and art project, your kids will learn fun facts about these countries, their place in the worldwide chocolate industry, and even the animals that thrive in the habitats where cacao grows.
* Finally, your kids will learn three reasons why God gave us chocolate: a brief lesson that incorporates scriptures about creation, the narrow 'ring about the world' where cacao grows, and the health properties of cacao.
The Workshop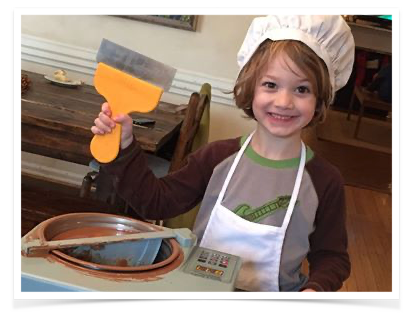 In our hands-on workshop session, your kids will work with milk chocolate and:
* Make chocolate bark with themed toppings
* Make animal chocolate pops
* And dip a themed cookie in chocolate and decorate it.
The Wrap-Up
At the close of the Chocolate Workshop for Kids, your child will:
* Package the chocolate they've made.
* Place it in a colorful themed bag.
* And gather for a group photograph
Age Range:
Chocolate School for Kids is open to children 6-13
Cost
The cost of a Chocolate Workshop for Kids depends on the number of children involved. We charge $300 for a three-hour workshop, which can accommodate 8-20 children.
Note: All profits from ChezSlaughter Chocolate go to support the mission of Jeff and Kathy Slaughter in Europe. For more information about that mission see: www.elevateeurope.com
Locations
You can host a Chocolate Workshop for Kids in your church or home kitchen (please consult with Jeff Slaughter to ensure the kitchen is equipped and large enough for the number of children you're inviting.)
Or, Jeff can book a local church to host your workshop depending on availability.
For more information or to book your Chocolate Workshop for Kids:
Email: [email protected]
References
Kenny Joiner, Pastor, Willow Point Baptist Church
Ronney Joe Webb, Missions Pastor, First Baptist Church Shreveport
JD Jones, Missions/Associate Pastor, Calvary Baptist Church
Lynn Puryear Allen, Children's Pastor, Airline Baptist Church