Are you a children's pastor or ministry leader looking for an out-of-the-box activity for your church kids?
Are you a homeschooler looking for a fun and educational activity for the kids in your co-op?
Are you a parent looking for a one-of-a-kind birthday party for your child?
If so, then why not host a ChezSlaughter Chocolate Workshop for Kids?
Our Chocolate Workshops for Kids are fun, educational and delicious!
Although our workshops are customizable depending on the age of your children and the context, here is what a typical Chocolate Workshop for Kids consists of:
A Classroom Session
* When your children arrive, they will receive a theme-inspired name badge and lanyard that's theirs to keep.
* Then, your kids will enjoy a themed educational session. Our 2023 theme, 'Chocolate Hawaiian Style,' kicks off with an interactive classroom session teaching children about the one state in the United State where cacao is able to grow. We'll take a virtual visit to a Hawaiian cacao farm. learn about cacao pods and the chocolate-making process.
* Finally, if appropriate in your context, your kids will learn how Christianity came to Hawaii and how missions organizations work there to reach the islanders for Christ.
The Workshop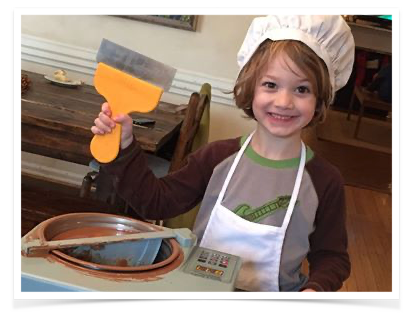 In our hands-on workshop session, your kids will work with milk chocolate and:
* Make Hawaiian-inspired chocolate bark
* Make and decorate tropical bird chocolate pops
* And dip a themed cookie in chocolate and decorate it.
The Wrap-Up
At the close of the Chocolate Workshop for Kids, your child will:
* Package the chocolate they've made.
* Place it in a colorful themed bag.
* And gather for a Hawaiian-inspired group photograph
Age Range:
Chocolate School for Kids is open to children 6-13
Cost
The cost of a Chocolate Workshop for Kids depends on the number of children involved. Please e-mail [email protected] for a custom price quote.
Note: All profits from ChezSlaughter Chocolate go to support the mission of Jeff and Kathy Slaughter in Europe. For more information about that mission see: www.elevateeurope.com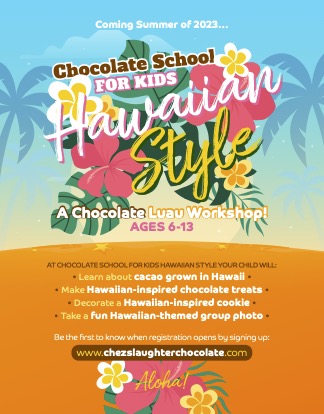 Locations
You can send your child to one of our private Chocolate Summer School for Kids workshops in June; or host a Chocolate Workshop for Kids in your church or home kitchen (please consult with Jeff Slaughter to ensure the kitchen is equipped and large enough for the number of children you're inviting.)
Or, Jeff can book a local church to host your workshop depending on availability.
For more information or to book your Chocolate Workshop for Kids:
Email: [email protected]
References
Kenny Joiner, Pastor, Willow Point Baptist Church
Ronney Joe Webb, Missions Pastor, First Baptist Church Shreveport
Lynn Puryear Allen, Children's Pastor, Airline Baptist Church