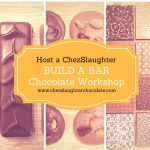 Book a 'Build a Bar' chocolate workshop in your home, church or office for yourself and five friends and explore the wonderful world of working with fine chocolate.
"Chocolate workshops are one of my favorite things to do," says Jeff Slaughter of ChezSlaughter Chocolate in Shreveport-Bossier. "At my chocolate workshops, participants are 'chocolatiers for a day' and get to do it all – from helping me temper the chocolate, to making bars and ganache to garnishing with toppings. It's a fun-filled, lick-your-fingers, magical day that sends you home with lots of chocolate to enjoy and share."
Chocolate workshops are perfect for:
* Birthday parties, anniversaries or a family get-together
* Small group fellowships, ladies groups
* Team-building exercise for businesses
At ChezSlaughter Chocolate workshops, you'll learn:
* About the origin and history of chocolate
* How and where chocolate grows
* The science of tempering chocolate
* How to work with chocolate
During the chocolate workshop, each participant will make:
* Four Jolie bars with choice of decorative transfer sheets
* Four custom-filled chocolate bars (think 'Make Your Own Mars Bar!')
* Four French 'Mendiants' adorned with toppings
Chocolate workshop participants will also:
* Taste and learn about the difference between a popular American chocolate and Belgian chocolate.
* Enjoy refreshments
* Package their chocolate professionally.
"If you have more than six interested participants, consult with me and we can discuss options for a custom chocolate workshop or even a more laid-back chocolate party."
Details:
Cost: $60 per person
Required number of participants: 6
To book: Email [email protected]