Why Our Online Chocolate Store is on Summer Hiatus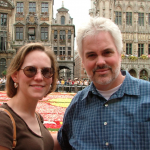 The online chocolate store of ChezSlaughter Chocolate of Shreveport-Bossier City, LA is on summer hiatus due to the extreme high temperatures we experience in the southern United States.
It's just too challenging and unpredictable to ship or even transport chocolate on these 90+ degree days.
The melting point of chocolate is 72 degrees Fahrenheit and most of our summer days – and nights – in Louisiana never see 72 degrees Fahrenheit. We learned the hard way that once we get chocolate made, it becomes a challenge to even walk out the door with it – much less transport it across town or ship it.
And even using ice doesn't guarantee that chocolate won't arrive in a puddle. In fact, the last shipment of chocolate we received was sent with ice packs, but rode around in a UPS truck all day and was delivered in liquid form! That was a good sign it's too hot for chocolate!
ChezSlaughter Chocolate is still available to do workshops – such as our 'Summer Chocolate School for Kids', but until things cool down in September, our online chocolate store be on a summer hiatus.
However, watch for some amazing new things coming up in September!
Jeff and Kathy Slaughter