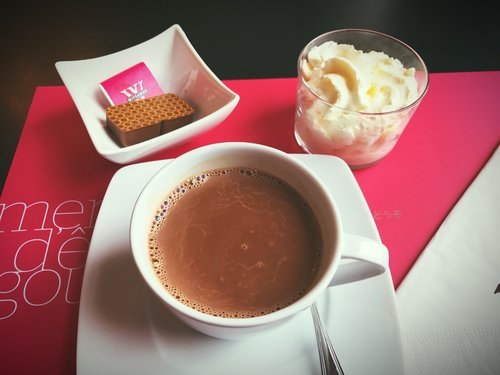 Winter Chocolate Tip: How to Make Belgian-Style Hot Chocolate
Typical American hot chocolate is fast and easy: most of us are happy with a packaged mix such as 'Swiss Miss', or a quick-and-easy mixture of cocoa powder, milk and sugar.
But in Belgium, the land of chocolate, that wouldn't suffice. Belgians make their hot chocolate with real chocolate. And no one does it better than one of our favorite Belgian chocolatiers – Wittamer.
On a cold fall morning a couple of years ago, I had a Wittamer's hot chocolate (pictured above) while I was helping friends Kirk and Deby Dearman conduct a tour for artists.
The Wittamer hot chocolate was out of this world … and now I know why. I found the recipe in a book called, 'The Great Book of Chocolate' by David Lebovitz, who explains that Wittamer's hot chocolate secret is mixing bittersweet and milk chocolate together.
If you'd like to make your own Belgian-style hot chocolate, try your hand at the recipe below. And if you do try it, let me know what you think!
Tip: Try to use high-quality chocolate such as Guittard or Scharffenberger. It will make all the difference.
Wittamer's Recipe for Belgian Hot Chocolate
Makes:
Four to six servings
Ingredients:
1 quart (1l) half-and-half or whole milk
8 ounces (230g) bittersweet or semisweet chocolate, chopped
4 ounces (115g) milk chocolate, chopped
Tiny pinch of salt
1/2 teaspoon ground cinnamon
Directions
Step #1: In a medium saucepan, warm about one-third of the half-and-half or milk, with the chopped chocolates and salt, stirring until the chocolate is melted.
Step #2. Whisk in the remaining half-and-half or milk, heating until the mixture is warmed through. Add the cinnamon.
Step #3. Use a hand-held blender, or a whisk, and mix the hot chocolate until it's completely smooth. Serve very warm.
Serving: In Belgium, this is often served with a poof of whipped cream and chocolate curls. And it won't hurt if you have a few Biscoff cookies on hand (known as 'Speculoos' in Belgium, the Biscoff cookie made popular in America by Delta Airlines is a made-in-Belgium cookie!)
Storage: The hot chocolate mixture can be stored in the refrigerator for up to one week and rewarmed in a saucepan.