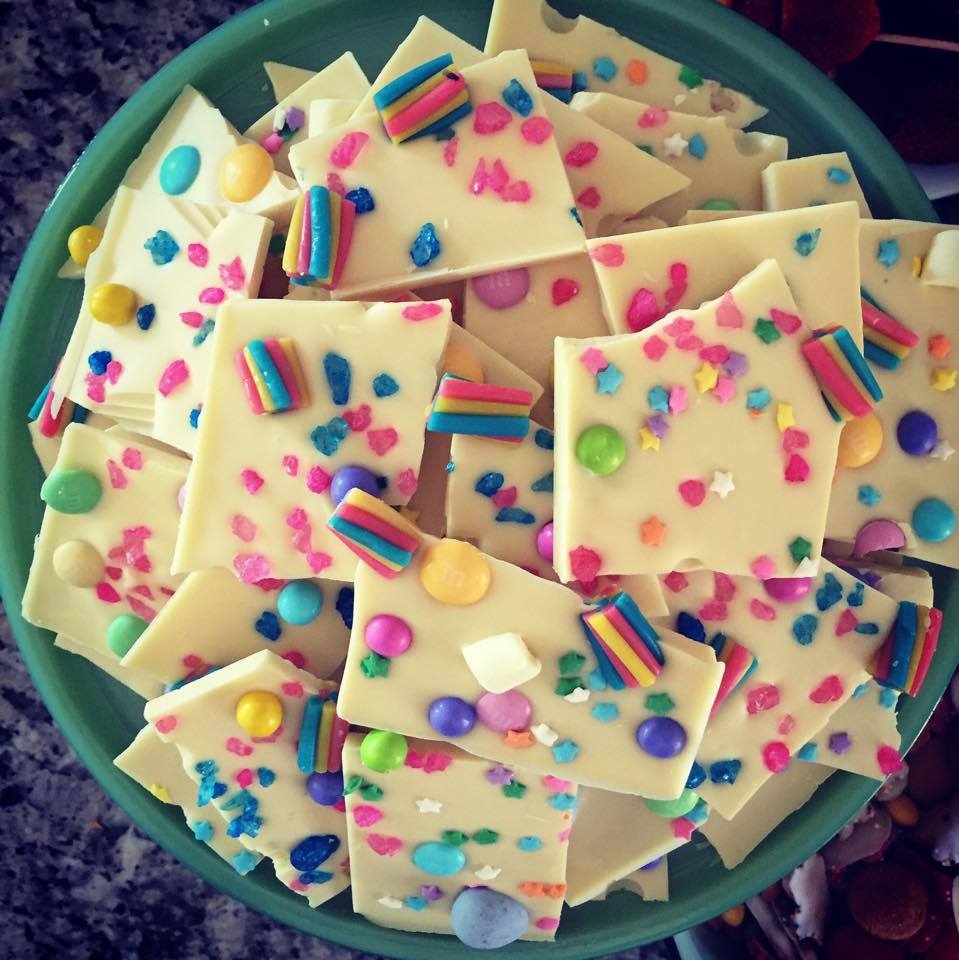 The Wonderful World of White Chocolate : The Truth
A few weeks my daughter and I made white chocolate 'Unicorn Bark' for my granddaughter's 2nd birthday party. I had no idea that 'Unicorn Bark' was a thing and I'm pretty sure that my daughter invented the idea – but we sure had a lot of fun whipping it up.
I tempered some luscious Belgian white chocolate and poured the white warm mixture in a couple of my 'Party Bark' molds which have exotic words like 'cacao' and images of cacoa pods etched on the bottom. The end product is so much more interesting than what you get when pouring chocolate onto a cookie sheet wrapped in aluminum foil which is typical for bark production.
My daughter decorated the tempered chocolate with colorful confections she bought at the store and once it was set – voila – we had 'Unicorn Bark'.
It was a party hit and I'm sure made all the other children's mothers wish that their fathers were chocolatiers too. (I tell myself that to make up for the fact that the other grandfathers probably know how to swing a hammer and build their grand kids amazing outdoor playground equipment. I can't do that but I can make a mean Unicorn Bark.)
Anyway, this beautiful photo of our Unicorn Bark got me to thinking about white chocolate and how it might be considered the red-headed step-sister of chocolate (no offense to you red-headed step sisters out there).
After all, it's not really chocolate.
It's true … white chocolate really isn't chocolate
While it contains the cocoa butter of real chocolate, it lacks cocao solids, which is the ingredient responsible for milk and dark chocolate's familiar brown color and nutty roasted flavor.
This creamy chocolate is just cocoa butter, sugar, milk, vanilla and a stabilizer. But boy, if you like it, you like it! And Belgium makes some of the best white chocolate in the world.
Now, you may see white stuff in your local grocery store aisle or in the candy-making aisle at Hobby Lobby. But I hate to tell you – most of that is as authentic as the fake news on your Facebook feed.
What you find most often are milk products that usually contain ingredients such as partially hydrogenated palm oil, palm kernel oil, soybean oil, or cottonseed oil in lieu of some or all of the cocoa butter. And with white chocolate, cocoa butter is everything.
It's true … white chocolate isn't really white
It's a little known fact that REAL white chocolate isn't even white – it's ivory colored. That's because ivory is the natural color of cocoa butter.
So if you see white chocolate that's actually white, it's probably not even white chocolate at all – just some fake confectionary trying to pass off as the good stuff.
Don't go there. It's not worth it. Find real white chocolate. You really can taste the difference.
It's true … you'll need to hunt for real white chocolate
Where can you find the real stuff?
* The San Francisco brand 'Guittard' makes real white chocolate.
* Search amazon.com for the good stuff.
Make sure and what for Part 2 of 'The Wonderful World of White Chocolate' where I'll share some fun facts.
ChezSlaughter Chocolate of Shreveport-Bossier City, LA is a roving artisan chocolate company. We make chocolate confections from premium Belgian chocolate and handcraft artisan caramels and cookies such as Biscotti. We also offer chocolate workshops and chocolate-themed parties.