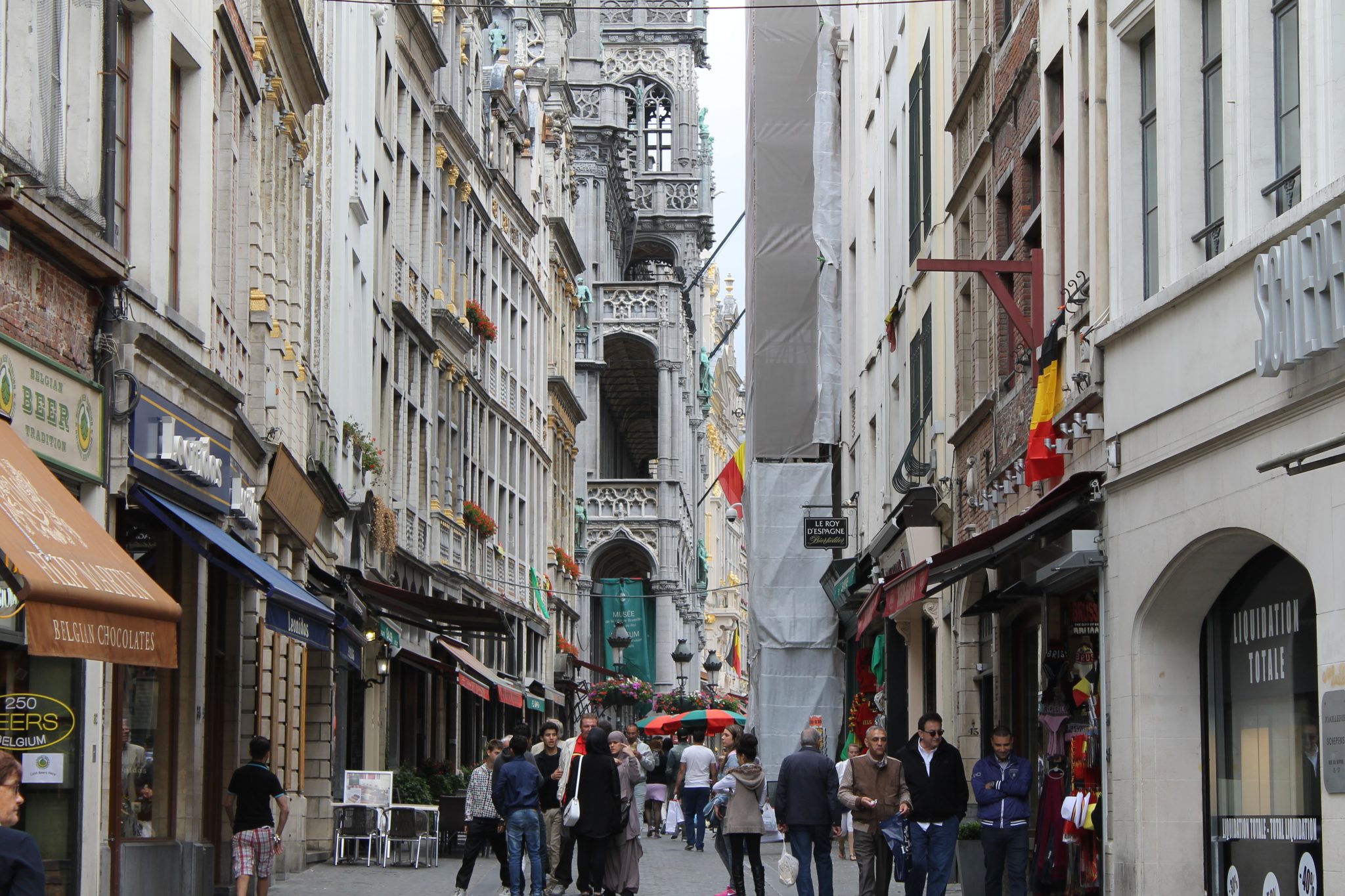 Summer Travel Series :: Visiting Brussels?Take Our Belgian Chocolate Walking Tour
This month, ChezSlaughter Chocolate of Shreveport-Bossier City, LA is featuring the country of Belgium in a 'Summer Travel Series' on The Chocolate Blog. We hope you can take our Belgian Chocolate Walking Tour live and in person some day so you can taste as you go. But if you can't go in person, taking the virtual tour below is the next best thing.
Why Belgium?
For starters, we lived there for 15 years and want to share some of the wonders of this small country nestled between France, Germany and The Netherlands. But perhaps more pertinent to this website, Belgium is known as the 'chocolate capital of the world.'
Belgium hosts one of the most progressive chocolate industries in the world, setting the standard for couverture chocolate and knowing exactly what to do with that chocolate as evidenced by the 300+ chocolate companies in a country with only 11 million residents!
Over the next several weeks, we're going to cover a number of stories about Belgium – some chocolate related, some food related and some recommendations on what you should see and do if and when you visit the country. We hope you enjoy our Belgium Summer Travel Series!
Take Our Belgian Chocolate Walking Tour
With the European Union headquartered here, Belgium is considered the Capital of Europe. But some also consider it the Capital of Chocolate. In Belgium, there are some 300 different Belgian chocolate companies, thousands of places to buy chocolate, and hundreds of chocolate goodies to tempt the palate and tilt the scales.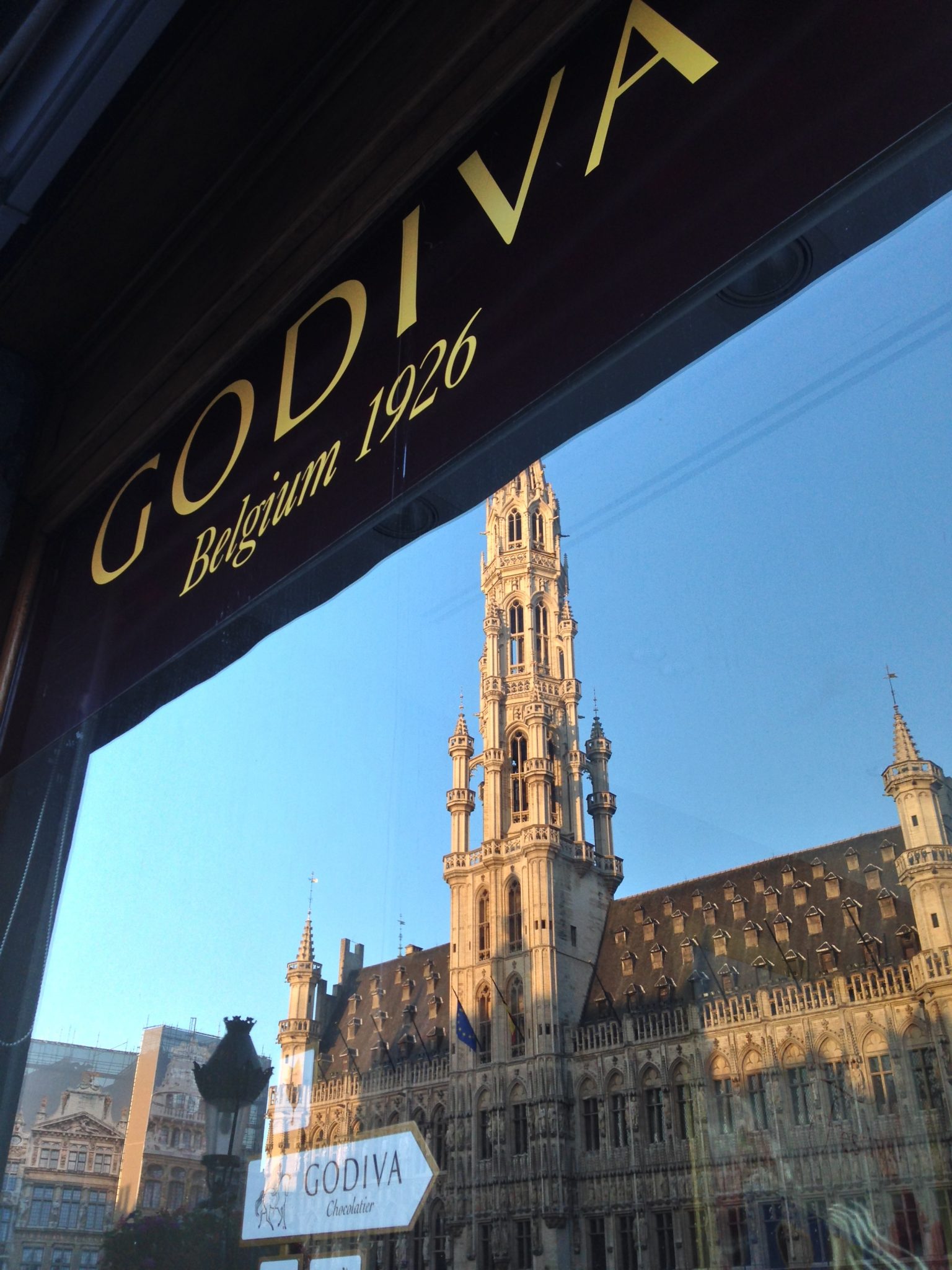 The Grand Place area has more than 35 chocolate shops within a few minutes walk. With so many options, how is one to choose?
We've made it easy for you by organizing a Belgian Chocolate Walking Tour. We'll take you to some of our favorite shops near the Grand Place as well as a chocolate museum where you can learn about the history of Belgian chocolate and even see chocolates being made.
Chocopolis
Your Belgian chocolate walking tour starts with 'Chocopolis' at 110 Marche aux Herbes. Here, you can watch chocolatiers make chocolate, sample a free chocolate and even book a workshop.
Address: #110 Marche aux Herbes 1000-Brussels
Godiva
Just as you step inside the Grand Place you'll find Godiva on your right. Godiva is one of Belgium's oldest chocolatiers, originating in 1926. If you come at the right time, you might find a chocolatier dipping strawberries in luscious dark or milk chocolate. While it's all good, take home a box of their 'Pearls' to someone special. They come in dark, dark with orange, milk or milk with cappuccino.
Neuhaus
Just a few doors down on the right, you'll find Neuhaus. Jean Neuhaus invented the 'Belgian Praline', defined as a 'chocolate shell with a soft billing.' Our favorite Neuhaus pralines: the Caprice (toffee filled with fresh cream and enrobed in dark chocolate) created for the 1958 World Exhibition held in Brussels; and its companion, the Tentation, (toffee filled with coffee ganache and enrobed in milk chocolate).
Galler Chocolatier
Step out of Neuhaus and walk past the museum, two alleys, a few restaurants and tapestry/lace shops and you'll find yourself at Galler Chocolate (on the right). Jean Galler founded his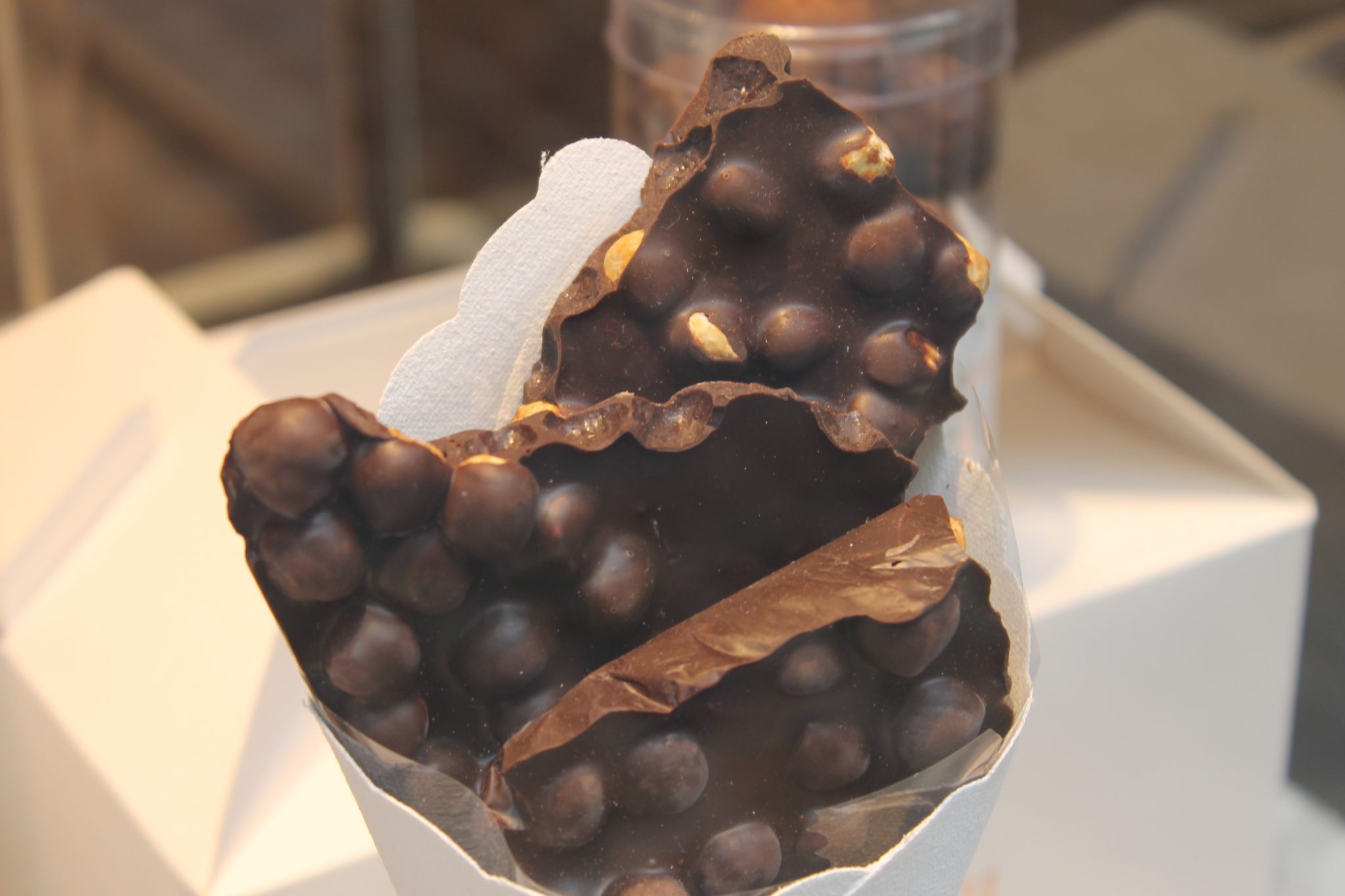 business about 35 years ago. Galler does it all: pralines, bars, ice creams, spreads and more, but we're going to recommend two products that make them unique: Kaori, a collection of chocolate sticks that can be dipped in small pots of flavors including: cardamon, saffron, ginger, strawberry & balsamic, Yuzu, vanilla-coconut, Calamansi juice, orange rind with cocoa nibs and green tea. Or if you have children in your life, pick them up a tin or box of 'Cat's Chocolates' (formerly called 'Cat's Tongues' because of their unique shape.) This whimsical treat comes in white, milk and dark praline as well as plain dark. Fun!
Address: 44 Rue au Beurre 1000 Brussels
Leonidas
A few doors down on your right is a Leonidas shop. Since 1913, Leonidas has been a fixture on the Belgian chocolate scene. One of the most prolific chocolate brands in Belgium, Leonidas' shops dot the Belgian landscape from east to west. Interestingly enough, Leonidas' originator, Kestekides, wasn't originally Belgian. He was a Greek American who traveled to Belgium in 1910 to share his handmade confections at the World Fair. Over the next few years, he fell in love with both Belgian chocolate and a Belgian woman. After marrying his Belgian bride, he set up shop in Belgium to create masterpiece chocolate confections.
Again, so many choices and so little time but we recommend picking up a few boxes of 'Napolitains', which are small squares of molded chocolates offered in a variety of flavors. These make great gifts and you'll find them affordable and available in different size packets. We also recommend trying the Leonidas Manon, which replaces the traditional fondant sugar coating with white chocolate and the walnut with a grilled hazelnut.
Address: 34 Rue au Beurre 1000 Brussels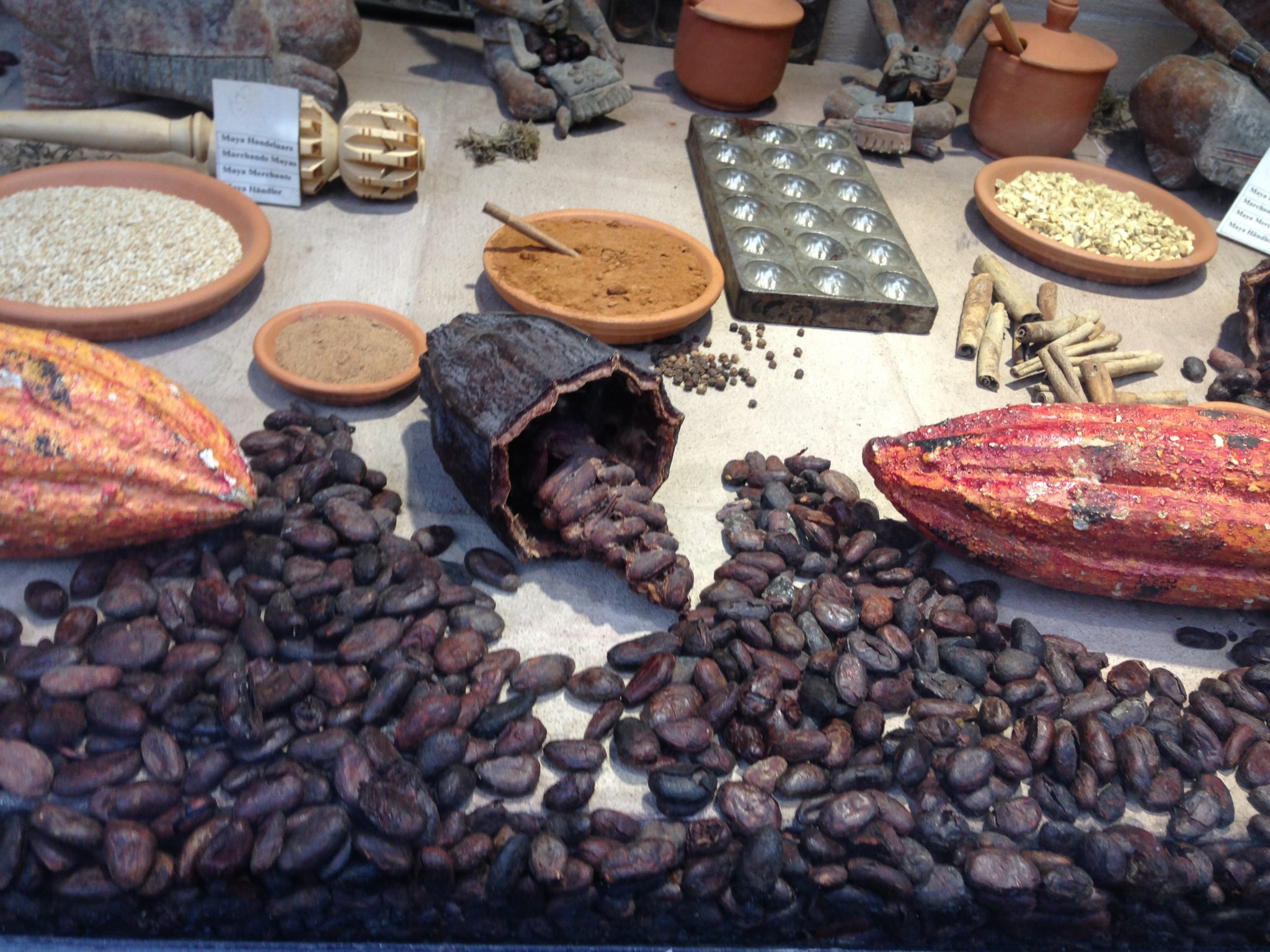 Musee du Cacao et des Chocolat
Ok…maybe it's time to take a break from chocolate sampling and shopping to step inside for an in-depth study in Belgian chocolate at the Musee du Cacao et des Chocolat. To get there, leave Leonidas and go back up the street toward the Grand Place. Immediately turn right when you get into the Place and follow the buildings to the street that leads out of the Place. That will put you on Rue de la Tete d'Or and near this museum.
Address: 9-11, Rue de la Tete d'Or
Planete Chocolat
Ready for more chocolate? Let's continue our Belgian Chocolate Walking Tour! Leave the museum and turn right on Rue de la Tete d'Or, left on Rue de l'Amigo and right on Rue l'Etuve. Take your next right on Rue du Lombard and you'll find Planete Chocolat down on your right. This shop offers a beautiful demonstration showroom and can accommodate individuals and groups for a presentation that includes videos, demonstrations and a tasting. The shop also offers tours and workshops. Recommended products: their 'Chocolate Bouquets' in such flavors as milk caramel and dark coffee.
Address: 24, Rue du Lombard 1000-Brussels
Now our Belgian Chocolate Walking tour takes a turn back to the entrance of the Grand Place. Turn left on Rue du Lombard and left on Rue de l'Etuve until you get to the Place. Follow your nose back to Godiva and up Rue du Colline until you get to the opening of 'Galerie de la Reine' (between the ING bank and Haggen Daz).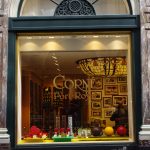 Corne Port-Royal
Enter Galerie de la Reine and just on your right you'll see the amazing show window of Corne Port-Royal. Founded by Maurice Corné in 1932, we love the way this chocolate shop displays its products elegantly in bowls and interesting containers. Corne Port- Royal is best known for creating the 'Manon Sucre': a praline featuring cream, nougatine, fresh walnuts and hand enrobed with confectioner's sugar. You'll want to pick up one – or two. You might also want to pick up a box or two of truffles in such mouth-watering flavors as champagne, caramel or coffee.
Address: 5, Galerie de la Reine 1000-Brussels
As you leave Corner Port-Royal, continue down the Galerie and look for Mary on your left.
Mary
Perhaps one of the few women chocolatiers in her era, Mary Delluc started her chocolate company in 1919 and spent her entire life devoted to her work. While Mary is known for her chocolate, she is also known for her boxes which are works of art in their own right. A line of white tins and white boxes are her signature style, complemented by a few more colorful and whimsical designs.
While it's all good (we keep saying that don't we?), we're going to recommend taking home some of their 'Dragees', which are chocolate-covered coffee beans and nuts. You can choose from roasted coffee beans covered in dark chocolate, roasted caramelized almonds, roasted almonds covered with Gianduja, and nougatine with hazelnuts and orange. Pick up a bag of Mary's caramels too!
Address: 36 Galerie de la Reine 1000 Brussels
For the last visit on our Belgian Chocolate Walking tour, leave the Galerie de Reine the same way you entered and turn right down the Marche aux Herbes. Follow the street a few minutes until you get to #15 on your left – destination: Café Tasse (attention: you'll be going backwards number-wise down the street).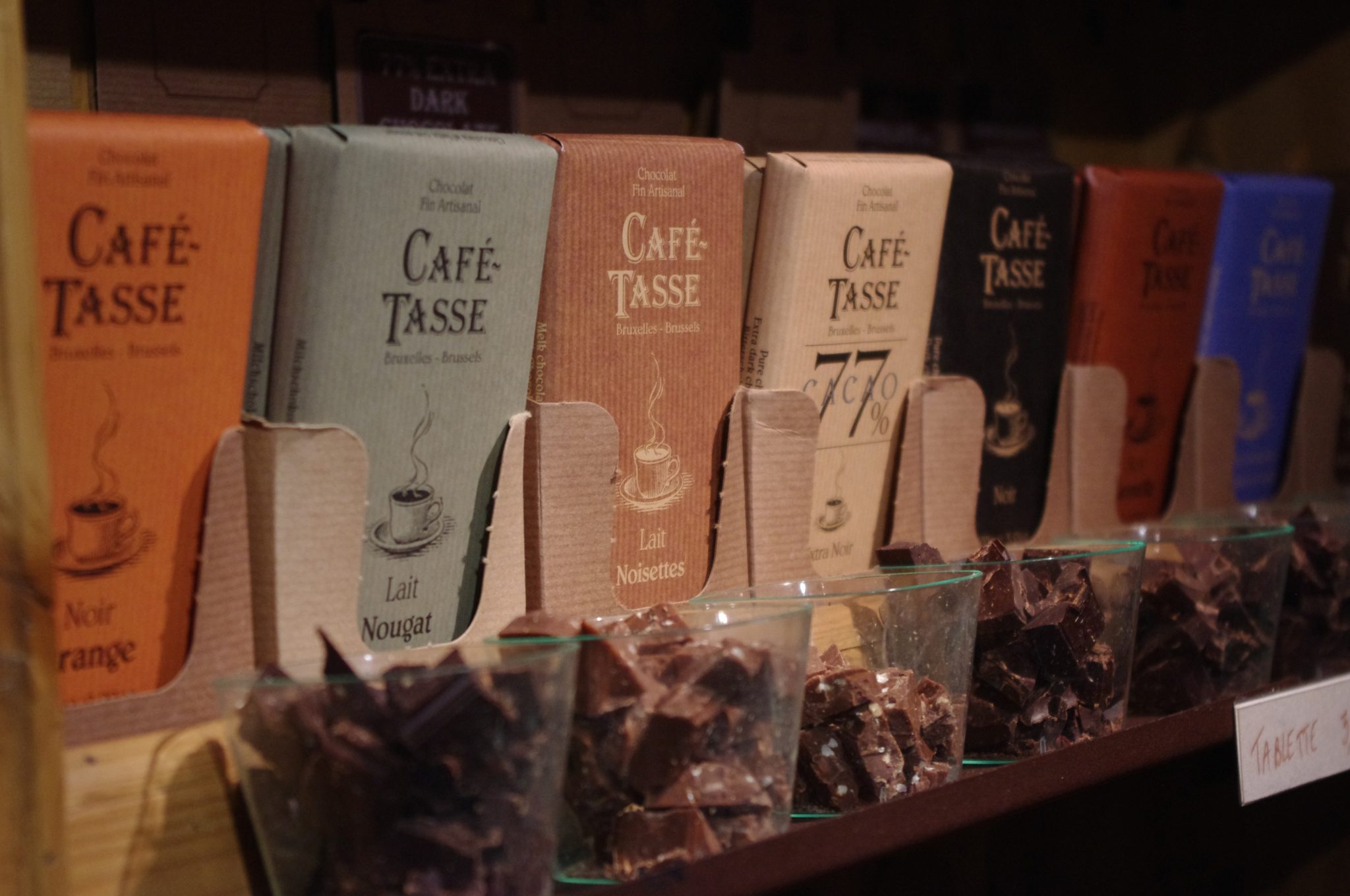 Café Tasse
We saved this shop for last because by now, you're going to be thirsty and ready for a nice coffee, cappuccino, hot chocolate or tea. Café Tasse is unique in that you won't find pralines here. Instead, you'll find an assortment of bars of all sizes, dried fruits, cocoa powders, coffee bean, nougat and other goodies. One of the newer Belgian chocolatiers on the scene, you'll find Café Tasse products wrapped in warm, homey packaging and great for gifts back home. We recommend the chocolate-covered coffee beans, the hot chocolate powders and the various bars which come in a variety of flavors including dark orange, milk coffee and dark tea.
Address: 15 Marche aux Herbes 1000-Brussels
We hope you enjoyed your Belgian Chocolate walking tour! If your chocolate tooth still isn't satisfied there are plenty of other great Belgian chocolatiers to visit near the Grand Place.
ChezSlaughter Chocolate of Shreveport-Bossier City, LA is a roving artisan chocolate company. We make chocolate confections from premium Belgian chocolate and handcraft artisan caramels and cookies such as Biscotti. We also offer chocolate workshops and chocolate-themed parties.