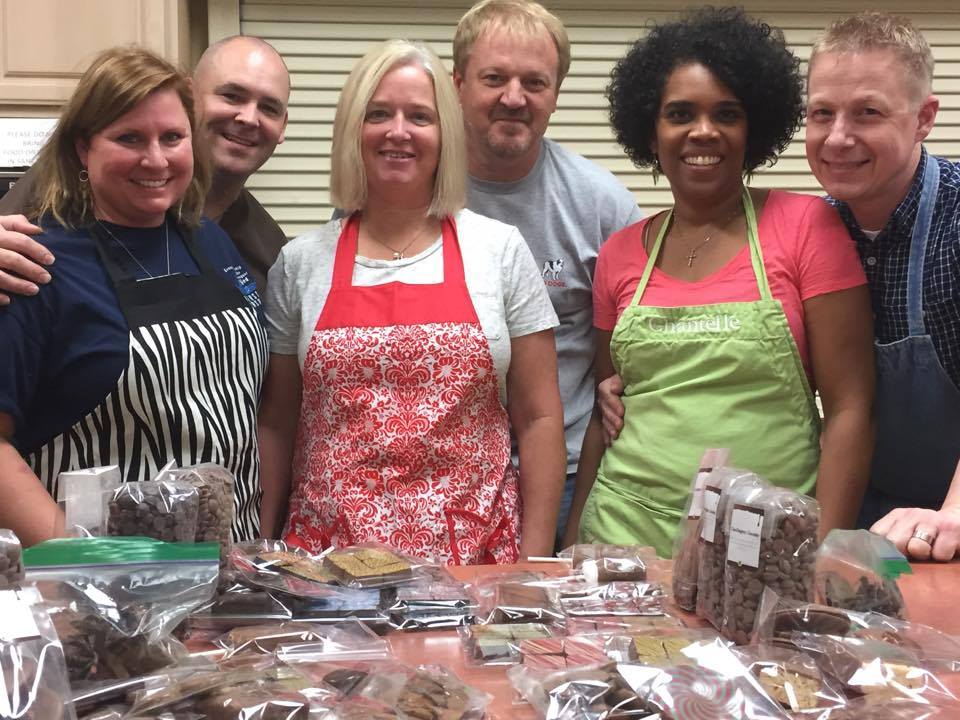 Attend a Chocolate Workshop
One of my favorite ChezSlaughter Chocolate activities is sharing some of my chocolate-making secrets with fellow chocolate lovers during a hands-on chocolate workshop.
Who is a chocolate workshop for?
Chocolate lovers: You pretty much have to like chocolate to enjoy my workshops. Because there's a lot of chocolate involved and you'll not only carry a sack full of goodies home with you but you'll carry home a few drips and dribbles on your clothes as well.
Cooks, Bakers and Foodies: If you fall into one of these categories of passion, my workshops are definitely for you. You'll learn some of my tricks of the trade and I'll teach you how to wow even the most 'unwowable' dinner guest with chocolate.
Fun lovers: You have to love having fun. If not, the thrill of the temper, the rush of making ganache, and the delight in dipping delicacies will be too much for you to handle.
I offer several chocolate workshop experiences depending on: the time you have available; the number of people you have in mind; and your budget.
Here are some options:
Build a Bar Workshop: 
During the Build a Bar chocolate workshop, each participant will make:
Four Jolie bars with choice of decorative transfer sheets
Four custom-filled chocolate bars (think 'Make Your Own Mars Bar!')
Four French 'Mendiants' adorned with toppings
Valentine Chocolate Workshop:Each participant will make enough chocolate for two gift boxes including:

18 Belgian-style pralines (filled chocolates) with either ganache or caramel fillings
Two Jolie bars with choice of decorative transfer sheets
Two chocolate-dipped heart marshmallows
200 grams of solid chocolate hearts with sprinkles

Chocolate workshop participants will also:
* Taste and learn about the difference between a popular American chocolate and Belgian chocolate.
* Enjoy refreshments
* Package their chocolate professionally.

For more information, contact ChezSlaughter Chocolate at jeffchezslaughterchocolateChezSlaughter Chocolate of Shreveport-Bossier City, LA is a roving artisan chocolate company. We make chocolate confections from premium Belgian chocolate and handcraft artisan caramels and cookies such as Biscotti. We also offer chocolate workshops and chocolate-themed parties.